Bluegrass Brewing Company is Louisville's oldest and most award winning Brewpub with three locations in the Louisville area as well as a tap room and production facility.  The St. Matthews brewery is spearheaded by Andrew Dimery, while the downtown location is run by Toby Hunt (formerly of Queen City Brewing/Main St. Brewing in Cincinnati), while Joel Halbieb runs the production facility; the beers are diverse, always fresh and true to style.  An American Pale Ale (55 IBU), Dark Star Porter, German Alt Beer, Nut Brown Ale and a Raspberry Mead are our constant offerings with anywhere from 3 to 6 specialties on at all times.  Since we live in bourbon country, one of BBC's specialties is barrel aged beer and there is almost always one on tap.  BBC's mission is to make true to style, bold and unique beers. Jeremy is in to the sour beers so look for barrel aged sour beers to be available in the future.  Toby enjoys using nitrogen in beers so look for his nitro bourbon ales and nitro stouts.  All three Brewpub locations are comfortable, family friendly and serve an American Style menu with Salads, Burgers, Pizzas, Sandwiches and Entrees and have experienced chefs to create delicious daily specials.
Bluegrass Brewing Company, St. Matthews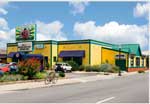 The original Bluegrass Brewing Company opened at this location in 1993. It is the city's oldest remaining brewpub and was the first to make a significant mark on the national brewpub and microbrewery scene. Beer is made at this location under the supervision of Brewer Andrew Dimery. Cask beer is available every Thursday.
Bluegrass Brewing Company, Theater Square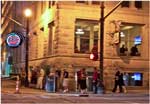 BBC Brewpub's second location opened in December 2006 and is a popular lunch and dinner spot with the downtown crowd. Conveniently located to hotels and entertainment venues, BBC Theater Square has become a favorite of travelers and theater-goers. There is no brewery at this location, but the restaurant offers one of the finest patios in town for outside dining.
Bluegrass Brewing Company, Third and Main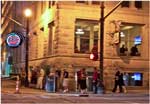 The newest addition to the BBC family opened September 2010 in the Historic 300 building. The bottom floor, aka "The Cellar" is set with high-top tables, booths and a large full-service bar. The second floor is set with all lower tables and booths and another full service bar. The third floor of BBC is the Four Roses Bourbon Barrel Loft, a lounge-type atmosphere with large sectional couches, a bar built from Four Roses Bourbon barrels, high-top bar tables, and a separate conference room for business meetings. All floors are handicap accessible with elevators. BBC 3rd and Main is an on-site brewing location.
Addresses:
St. Matthews
3929 Shelbyville Road
Louisville, Kentucky 40207
(502)899-7070
M – Th  11am to Midnight, Fri – Sat 11am to 1am, Sun 12 – Midnight
Theater Square
660 South Fourth Street
Louisville, Kentucky 40202
(502)568-2224
M – Th  11am to Midnight, Fri – Sat 11am to 1am, Closed Sunday
Third and Main
330 West Main Street
Louisville, Kentucky 40202
(502)562-0007
M – Th  11am to Midnight, Fri – Sat 11am to 1am, Sun 12 – Midnight