VIEW CALENDAR OF EVENTS   REGISTER YOUR EVENT!
It's Louisville Craft Beer Week 2016! September 16-24.
WTF is LCBW?
The primary goal of Louisville Craft Beer Week (LCBW) is to promote our area's thriving craft beer culture, enhancing beer knowledge and appreciation by sponsoring a 9-day (two weekend) festival that attracts beer tourism, fosters knowledge of our regional brewing heritage, and serves as a showcase for the Louisville area's breweries, restaurants, pubs, retailers, and other businesses with ties to the craft beer community.
LCBW runs from September 16-24, 2016 and features a wide variety of events highlighting Kentuckiana's vibrant craft beer culture. Craft beer lovers will have the opportunity to attend events ranging from beer dinners and food pairing to beer walks, bar promotions, brewery parties and plenty more.
LouisvilleBeer.com will act as the central hub for activity planning, coordination and communication for Louisville Craft Beer Week. Participating businesses are responsible for planning, hosting and sponsoring their own events.
Ideas for craft beer week events and already scheduled events can be found on the LCBW website: louisvillebeer.com/lcbw-register. Event submissions are due by September 15. To help cover administrative, online ads, LEO ads, poster printing and distribution, we ask that each venue pay a per-venue (not per event) registration fee of $100 (up to 4 events) or $150 for unlimited events. Once your event(s) is submitted, LouisvilleBeer.com will send your venue a couple of posters for you to promote your event, and your event will be listed on both LouisvilleBeer.com and the LCBW 2016 iOS/Android Mobile App. What's that? An app? Read on…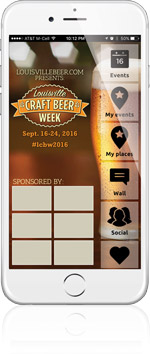 Introducing the LCBW 2016 App
This year, we've decided to go mobile and offer an iOS/Android app that offers attendees not only an up-to-date calendar of events, but also a way of socializing within the app and sharing YOUR events on their Facebook pages, as well as checking in to events (and hopefully sharing those on their social media channels as well). Users will be able to peruse all of the events and make a customized calendar of the events they want to attend. We're also offering our sponsors a way to send out push notifications to everyone that has the app installed.

Sponsorship
We are securing six sponsors for Louisville Craft Beer Week. If you are interested in learning more about sponsorship opportunities, or how your business can support Louisville Craft Beer Week, please contact us via the form at the bottom of the page.
Sponsors get:
Featured event listings in the LCBW 2016 App
Logo included on splash screen & main page of the LCBW App
Logo included on posters
Logo on the website & our social media pages
Push notifications leading up to LCBW thanking each sponsor and reminding users to check out sponsored events.
Push notifications sent out daily during LCBW. (We are only pushing out 2 per day – once in the morning, once around 5pm)
Each sponsor gets 3 out of the 18 during the week. Spots are first come, first served…so get yours in early!
Featured info in the app under a SPONSORS button that allows 2-4 paragraphs, and links to your site and social media outlets.
Media Sponsor
How Louisville Craft Beer Week Works
Step One: Develop one or more events that you would like to hold. The event might be a beer tasting, a beer dinner, a beer and cheese or chocolate pairing, an educational event, a concert, whatever you think will attract people to you through craft beer.
Step Two: Contact a brewery or distributor to make sure that the people necessary to hold your event will be available. For example, if you want to hold a beer dinner and would like a brewer to attend your dinner, contact the brewery or the appropriate distributor to make sure that the brewer would be available and willing and able to attend your event.
Step Three: Once you know what and when your event will occur, please Register your event by going to louisvillebeer.com. Registration will ensure that your event gets listed in the Official Guide for Louisville Craft Beer Week, will provide your event with the rights to use the Louisville Craft Beer Week logo in your promotional materials, and will get you posters and other materials for you to promote your event.
Step Four: Hold your event(s) at the day and time specified and be proud for supporting the craft beer movement and the hard work and effort that will pay off when others recognize your support!
Remember, if you're not a paid & registered event, you're not an official LCBW event, even if your event is during LCBW! 
For more information on sponsorship or to schedule your event, please contact John Wurth below:
Summary
Event
​
2016 Louisville Craft Beer Week
Louisville
,
Kentucky
Starting on
Ending on