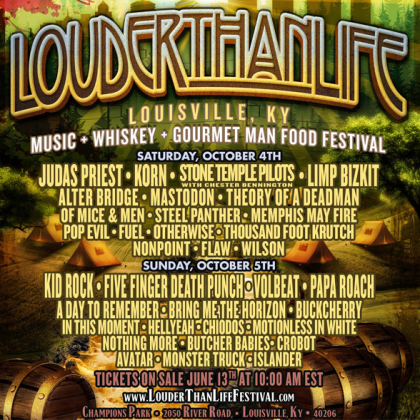 Something about this Louder than Life music festival, scheduled to hit Louisville this October, rubs me the wrong way. First of all, it's being billed as a Music, Bourbon and Gourmet Man Food festival. The "gourmet man food" line confuses me. Why the qualifier? Since any woman willing to wade through the River of Douche lining up to see two days of mook rock will also bring money to spend on food, I'm guessing the "man food" moniker is there to appease young males so insecure with their own sexuality that they eat corn dogs from the middle out.
Let's talk about this musical lineup, which rose from the ashes of the burning portable toilets of Woodstock '99. Alter Bridge will be there. They are the band Creed with a different lead singer, which means you get all of the suckiness and none of the Jesus Christ poses. Then there's Stone Temple Pilots without America's Heroin Addict, Scott Weiland. They replaced him with the guy who used to screech for Linkin Park. That's like buying something you already know is going to be shitty but instead it's much much worse, like finding a dead rat in a McRib sandwich.
Headlining the second day is Kid Rock, a guy who markets a lousy beer, may have once owned a little person, and was immortalized by the Onion headline  Study Links Drinking While Pregnant to Kid Rock Concert.  Limp Bizkit isn't the headliner either day, but it doesn't get much worse than the guys who brought us "Nookie" and "Break Stuff." Besides purposely starting riots and being the soundtrack for date rape, they once made the backwards red baseball hat fashionable. Just unforgivable.
The only thing that could possibly be worse than Limp Bizkit is Buckcherry, also playing on that magical second day. Buckcherry is the soundtrack to a day shift stripper getting burnt by a lit cigarette. I'm a little dumber having typed their name twice.
Some out of towner involved with the festival was quoted as saying, "The culture of rock and roll and bourbon go hand in hand." As someone who actually lives in Louisville and appreciates true bourbon culture, I find this statement offensive. If anything, the music at this festival goes hand in hand with Jager Bombs and underage kids getting wasted on Smirnoff Ice. I agree with a blurb from the press release proclaiming Louisville the "Culinary Capital of Bourbon Country." I just think it deserves better than Papa Roach.
However, the festival has its supporters. Even Mayor Fischer, who seems like a big Dan Folgelberg fan, put on his promoter's hat: "We're so excited to have the LOUDER THAN LIFE festival come to Louisville and I can't wait for the world to try our great local food, which got its start with the birth of the cheeseburger in our city over 80 years ago." It's super cute if Mayor Fischer thinks "the world" is going to come here for this festival to eat what – duck fat ribbon fries? –  and see the triumphant return of Five Finger Death Punch, but I assume when he says "the world" he means "a lot of dudes from Sheperdsville."
There will apparently also be local beer there. Good for local beer. I'm mentioning this to justify this article's place on LouisvilleBeer.com. Before anyone gets too upset about the opinions I've expressed here, remember that they're just that – opinions – and nothing will keep Lunkheadapalooza from hitting town to beat us all over the head with music's lowest common denominator.