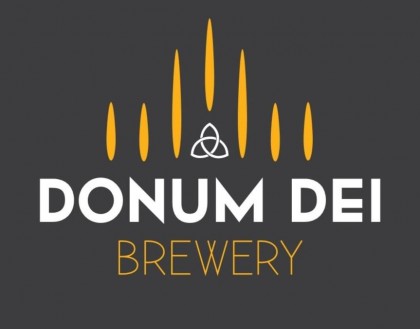 Richard Otey was a home brewer for years before getting the idea to sell his beer professionally. An electronics engineer by trade, he took up the hobby with his wife, Kimberly, after their kids moved away and has enjoyed the process ever since. He now owns Donum Dei with his wife and business partner Jonathan Ruff.
The Oteys closed on the Grant Line Road property, located in a shopping center behind El Nopal, in September 2013 and spent the last year renovating and applying for permits. The space was previously occupied by Earth Friends Cafe but now has an entirely different look, complete with an added garage door to let in fresh air and a wooden bar, handcrafted by Ruff.
Behind the scenes, the owners have re-purposed equipment to brew their beers in a 10-barrel system that includes using a dairy tank as a fermenter and storing finished products in a homemade walk-in freezer with two window air conditioning units.
Otey said he attempted to build his own brew kettle, but after the tank emitted strange smells, neighbors called the fire department and Otey killed the project. He instead purchased a used tank from a Portland, Ore., brewery that came with a condition: It must keep its name — Heisenberg.
Otey said the brewery will make changes in the future, including possibly distributing to nearby restaurants, but for now, he hopes to keep it a family-friendly place where customers can enjoy each others' company.
Address:
3211 Grant Line Rd #3
New Albany, Indiana 47150
502 541 2950
Hours:
Monday – Thursday 4p.m. to 10p.m.
Friday & Saturday 12p.m. to 11p.m.
Sunday 2p.m. to 9p.m.