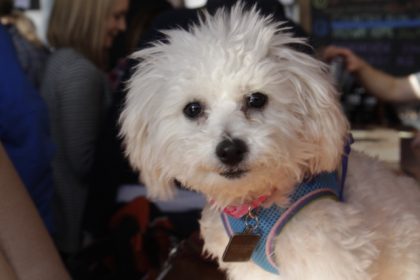 Annual Yappy Hour features 15 one-of-a-kind beers brewed by L.A.G.E.R.S. HOMEBREW CLUB members to support the Kentucky Humane Society.  September 23 at Apocalypse Brew Works.   Meet some of the brewers and hear about some of the beers they brewed for you.  Check out the brewers discussing their beers and the complete beer list.
2016 Yappy Hour Beer List
Zombie Dog Citra APA – This brew starts out tame with Munich and caramel malts and London Ale yeast but then it gets zapped with a ridiculous charge of Citra hops, turning this mild pup into a ZOMBIE DOG! ABV: 5.5, IBU: 50. Brewers, Sean Spalding and Jeff Thornton
Sexual Chocolate – Chocolate-Cherry Porter. 6% ABV, 31 IBU. Brewer, Chuck Harp.
Appalachian Haiku – Description: A hoppy American Pale Ale with a strong Maris Otter malt base, bold hop character of Columbus and Magnum hops with a complex finish of Centennial and Cascade hops. 55 IBU and 6.3% ABV. Brewer, Mark Robinson
Kiwi IPA – An exotic IPA that uses only New Zealand hops to celebrate the southern hemisphere harvest!  A lupulin circus of sticky tropical fruit, lime oil, equatorial flowers, and tellicherry peppercorns – underpinned with an undeniable earthy funk. Brewers, Dan Flaherty & Jason Wommack
Gumballdog – An American wheat beer with a refreshing, crisp citrus finish. This deliciously hoppy and aromatic beer is brewed with boatloads of Amarillo hops. 5% ABV, 58 IBU. Brewer, Lara Augustine
The Austrian Shepard – A crisp, refreshing Vienna Lager perfect for ushering in the fall air. Mildly hopped with noble hops. 5.2%ABV,23 IBU. Brewer, Larry Richardson
Chasin Tail IPA – India Pale Ale, packed with bright floral aromas and delectable layers of hop flavor.  Brewed with a blend of American and German malts with an addition of flaked oats for added mouth feel to surely please. Brewer, Justin Vasher
SOPA – Brewed to have bigger body than 4.6% ABV might suggest, our Session Oat Pale Ale promises a smooth pint bursting with hop flavors.  Galaxy, Mosaic, Citra, Centennial and Amarillo hops suggest a lively bouquet.  41IBU.  Brewers, Brandon Schaefer and Justin Mudd
Sour Puss Ale – Cream ale brewed with German Pilsner malt, flaked maize, and Saaz hops.  Crisp and refreshing with a tart sour finish. Brewer, Jason Rosenberger
Temple of the Hop – Hoppy American Pale Ale with heavy hand of Mosaic and Citra hops late in the boil, backed up by a blend of base malts.  ABV around 6%. Brewer, Evan Brill
Westie's Wicked Brew – Scotch Ale (Wee Heavy) A full-bodied, satisfying scotch ale that is malt forward, with a low hop profile.  A beer that can be enjoyed in any season. Brewer, Loren Prizant
Arf2-D2 – Beep blop bleep boop (translated as an American Brown Ale). Brewers, Doug Godfrey & Drew Haycraft
Golden Reliever – A refreshingly juicy golden IPA brewed with Maris Otter malt and dry hopped with enough Citra hops to fill a kennel. Using the "hop bursting" technique, this beer packs a heavy dose of aroma and flavor while remaining low in bitterness. 5.5% ABV.  Brewer, Mando Barajas
John Barleycorn – Inspired by the 1913 jack London novel; John Barleycorn. This California common (steam beer) showcases northern brewer hops. BJCP style 7b. ABV 5.1. Brewer, Trevor Cole Brock
Forbidden Fruit – Belgian style witbier brewed with wheat, oats, honey, orange peel, coriander and grains of paradise.  Brewer, CT Owen
Kentucky Commons – A smooth mild malty biscuit flavors balance with spicy notes from the hops with hints of caramel, toffee in the malt finish. This is a very easy, drinkable beer form the past. Brewer, Tim Moore
Wonder Dog White IPA – This beer smells like Wonder Bread when brewing with wheat and pilsner malts. Lots of light, fruity New Zealand hops including a last minute hop-grenade make this a refreshing fruity wonder for the dog days of summer. 4.5% ABV. Brewer, Henry Hunt.