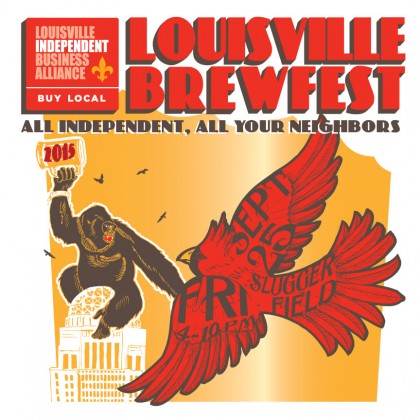 Once you get rid of your hangover from Louisville Craft Beer Week, you'll be good and ready for the LIBA Brewfest at Slugger Field! This year, you can taste a beer brewed (with help from Goodwood) by Mayor Fischer: An Irish Stout. Then you can try out Ben Sollee's Oktoberfest that he brewed with Apocalypse Brew Works. Plus, the Brewseum is back! LouisvilleBeer.com tested, LouisvilleBeer.com approved.
Friday, September 25, 2015
Hours: 4pm-10pm, last pour 9:45pm
ADMISSION:
$5 admission includes a souvenir cup.
Drink/food tickets are $1 each. Beer (12oz) or Wine (4-5oz) is 4 tickets each (samples are 1 ticket each), Bourbon (sample size, 1/2 ounce) is 1 ticket, soft drinks are 2 tickets. Food and wine prices will vary. Event map and menus coming soon.
Attendees must be 21 or older to enjoy the beer, wine and bourbon. Designated Drivers get free admission.
VIP TICKETS
Includes so much good stuff for $45!
Special Brew that will be available ONLY in the VIP section, and no where else at event (included with your VIP as long as supplies last).
Admission into event, and a separate VIP entrance to avoid general entry lines.
Special gifts from local artisans, including a hand crafted bottle opener made from authentic Heaven Hill bourbon barrels and letter press printed coasters.
16 oz Brewfest (3 color logo) pint glass that can be used for full pour purchases (2 oz more pour than general admission mugs), and is yours to take home.
12 vending tickets (to be used for additional beer, wine, bourbon, or food outside the VIP area) and complimentary snacks.
Covered, seated area with tables, adjacent to the field
Louisville Water Company reusable water bottle
Free admission and $1 off any drink, all night, for the official after party at Haymarket Whiskey Bar.
TRANSPORTATION:
Slugger Field charges $5 for on site parking. There is also plenty of free street parking after 6pm.
Local sponsor Yellow Cab will be on hand with a limited number of vouchers, plus cabs on hand, making it easy to do the responsible thing.
Bike parking is provided by our sponsor VO2 Multisport – take advantage of this healthy eco-friendly option.
This event is not particularly kid-friendly. If you must bring your little one, please do not bring strollers. Thanks!