My mom always told me to go big or to go home. I always listen to my mom.
That's why LouisvilleBeer.com has decided to use LEO Weekly as a vehicle for our 2012 Louisville Craft Beer Week Guide. The Reader's Choice issue (The biggest, most picked up LEO of the year) hits the stands on September 19, 2012. Conveniently the Wednesday before Louisville Craft Beer Week (LCBW) starts. We will be a special pull-out section in the center of the magazine. We have decided that your advertising dollar will go much further being a part of LEO's huge distribution (30,000 copies) vs. our 2,000 self-distributed guides. Since we are upping the amount of eyeballs that will be seeing your ad, that unfortunately means the pricing for advertising is going up.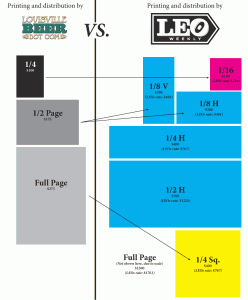 The cost of being listed stays the same, $75 per location for listing an event in the LCBW Guide. We half slashed the prices of the normal LEO ad to help entice you to be a part of this years festivities. Some up to 1/2 price. To the left is a graphic showing the "Before LEO" prices and the "After LEO" prices and size differences of the ads. Click through to see how this benefits you and LCBW.
Let's recap, here's a list of benefits to you, the advertiser:
Higher Distribution (30x what we planned to print – Distribution: 30,000!)
The biggest, most picked up LEO of the year
Up to 1/2 the price of retail LEO ads – Cheaper across the board!
If you're already interested in the old pricing/sizes, there's one in your budget
Listings are the same price ($75)
If you win a Reader's Choice award, brag about it in the LCBW Guide!
Not only are you in the LEO, your ads are targeted to Beer Geeks picking this up
So you too, should listen to my mom and help this years Craft Beer Week go big. (If it had to go home, there's not really any place for it go, is there? Weird.)
LEARN MORE!