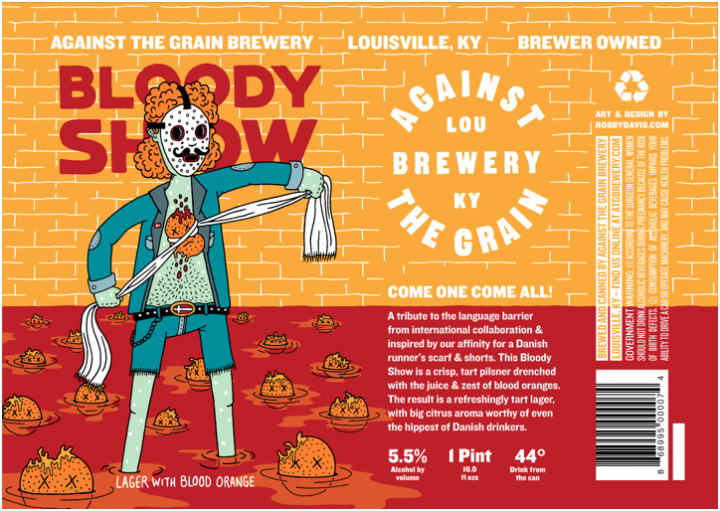 Against the Grain Brewery will be releasing Bloody Show in cans February 13 at 5:00pm. From the source:
The original incarnation of Bloody Show is a collaboration beer with Mikkeller, a brewer located in Copenhagen, Denmark. To put it simply this refreshing brew is a pilsner with blood orange. A delectable combination if you ask us. It's brewed with German pilsner and Munich malts, then hopped with American Citra, Columbus, Amarillo, and Czech Saaz. It's fermented with lager yeast. To finish it off we added the zest and juice from a shit-ton of blood oranges. In the end with an ABV of 5.5% the result is nice and easy drinking lager. It exhibits a tart, citrusy aroma and flavor with an IBU of 17.3

We will be releasing Bloody Show to the public February 13th at 5:00 P.M. A special Bloody Show party to ensue with DJ Andrew Kim, 4 packs of Bloody Show, special Hi-Five heart shaped doughnuts, and our blood orange cocktail, "Sookie Sookie".

4 packs of Bloody Show will be available for $13 and include an AtG koozie.