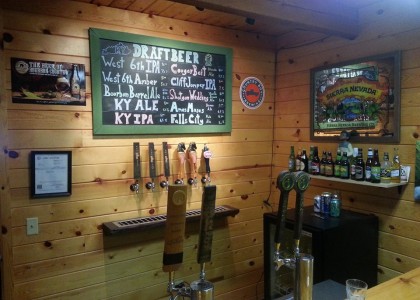 Let's say that you're hiking in beautiful Red River Gorge here in Kentucky and you realize that you left your box of caribiners on your dresser, AND you suddenly got a hankerin' for some finely crafted beer. You're lucky that Sky Bridge Station exists, it's a craft beer mecca in the Red River Gorge area. We chatted with one of the owners, Clifton Gifford, about that and then some this week on the podcast. Where else can you get a good Kentucky beer, while buying camping / climbing supplies, and get a cheap place to stay upstairs in their Hostel? What a country!
Tracey and Megan sat in on the podcast to talk about their transition from 502 Beer Bitches to the Louisville chapter of Girls Pint Out. If you're a gal who likes her craft beer, you need to pledge (AKA: Just show up to one of their events…the first one is April 11 at BBC Taproom at Clay & Main).
This just in…Louisville Beer News this week
Beer Engine says they'll be brewing soon! We'll have them on the podcast very soon to find out more
AtG finalizes the artwork for Citra Ass Down in cans. Can't wait for this release. Tall boys!
Hopcat is opening a location in Lexington in August. 140 taps!! They started in Michigan and have several locations in Michigan and one in Indianapolis. Great to have them in KY. I've never been to one, but have heard great things.
West Sixth had a big throwdown for their 3rd birthday. Looked like a ton of fun.
Paducah Beer Werks had their grand opening
Braxton had theirs as well. Tons of new great beer to try here in KY.