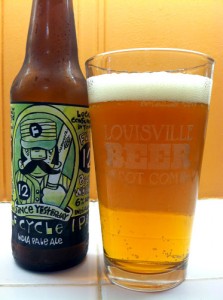 I brought a 6 pack back from the brewery in Indianapolis; not realizing one can purchase this fine beer right across the river.  I poured the 12 oz. bottle into a shaker pint glass. The body was a deep straw color – clear and bright. The modest white head left a significant amount of lacing in the glass.
According to their website, "the Half Cycle is so named due to its marriage of single and double IPA characteristics. In baseball parlance, a single and double is half of "the cycle".  While I'm not really a fan of baseball, I do love IPAs – single and double strength.
The smell of Half Cycle was very citrusy with notes of pine and hay. Pungent hops and a mild hard candy sourness.
The taste had a nice bitter smack but with enough sweetness to give it some complexity. The flavor mirrors the aromas well.  Sweet, pithy oranges with a robust orange peel bitterness.  The fresh hops bitterness dominates the mild, juicy sweetness.
The body of this was medium and the carbonation was right where it should be. Some may say it is too far out of balance – but I really enjoy this lopsided West Coast style of IPA being brewed in Indianapolis.