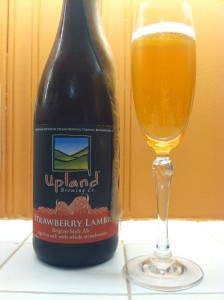 This beer gushed like I've never seen a beer erupt before! It had been gently resting in the refrigerator before discharging a dark foamy mess on the counter when opened.  After capturing the remaining beer in a flute it retained its modest head. The body was a cloudy golden color.
The smell was acidic, strawberry, and vinegary, very promising.  Wood, but with unpleasant hints of plastic, which became stronger as it warmed.
The taste was powerfully sour. Lip puckering sour, wonderful! Fresh strawberries and oak. There was a Sweet-Tarts candy like character in this one. However, there were enough grainy malts to give it a solid core. A nice, bone-dry finish to this one. The mouthfeel was effervescent, with a medium heft to the body. I enjoyed it despite some off notes in the aroma.
This beer was a 750 mL corked and caged bottle from 9-23-10, batch 42-09.