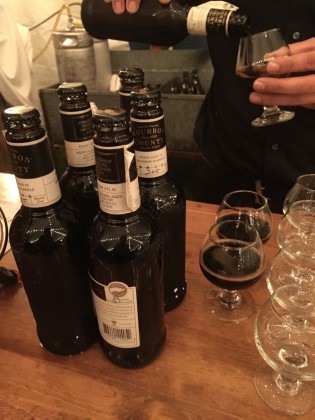 It was not the worst assignment that John Wurth has given me – Go to the Heaven Hill Distillery where a small group would be gathered to celebrate the beautiful combination of bourbon and beer – the release of Goose Island's Bourbon County Brand Stout 2015.
It was a lovely drive out to the Bardstown, KY distillery. I had never been to a KY Distillery before; please don't make me turn in my "Kentuckian" card!
When I arrived the crowd was largely made up of Goose Island and Heaven Hill employees, but the "Bourbon Babe" and Insider Louisville spirits writer Steve Coomes were there as well.
Before the dinner The Black Oil Brothers played a set of Bluegrass/Americana music while attendees mingled and drank some Goose Island beers.
Eric Ponce – the head of the Goose Island barrel program for the past three years – explained our paired beers as each course was served. The first of four courses was paired with Sofie – a Belgian ale with citrus peel that has been blended with some of that same beer that has been aged in wine barrels. This was accompanied by a breaded Camembert and frisée salad.
The second course was root vegetables with a savory a mousse. It was accompanied by Halia, a saison made with Michigan peaches and aged two months with brettanomyces in fresh white wine barrels. This was so delicious that I wanted more!
The third course was venison over risotto (being a vegetarian I was served risotto and more roasted vegetables). This was paired with Matilda – a spicy Belgian Strong Pale Ale.
The dessert of spice cake layered with butter pecan crème was served with 2015 Bourbon County Brand Stout. The rich roasty grain, subtle char, and cocoa powdery flavors went very well with this dessert. However, the Bourbon County Brand Stout is a great dessert all on its own.
The special treat of the evening was a snifter of Rare Bourbon County Brand 2015. This beer, served on draft, had been aged two years in barrels obtained from Heaven Hill. These very rare casks were over 30 years old – what a find! What else is yet to be found in those rick houses? Weighing in at over 14% ABV this velvety jewel was bright yet warming. Vanilla, caramel, dark chocolate, tobacco and port-like flavors were among the many notes we heard people share around the table.
To make the night even more amazing was the nearly full moon that rose low in the sky behind the shoulders of the dinner guests. As we were enjoying the nightcap another special gift was provided to us – A small snifter of Rare Bourbon County Brand Stout 2010. It was a truly rare opportunity to imbibe in these two vintages of the same beer and really experience the differences that unique barrels and 5 years can make. The 2010 vintage was more oxidized and had a softer flavor profile. Cherry and other stone fruits were evident to me, as well as the vanilla and oaky char. Neither were boozy or hot.
It was a bit of a shock to me that I spotted several small snifters of the Rare BCBS 2010 with beer remaining in them at the end of the evening! Abandoned. I'm a bit embarrassed to admit that it did cross my mind to finish off some of those left behind. I was not hearing my mother in my head telling me not to waste – but rather – I was thinking of all of the beer geeks out there who would have loved to drink that remaining Rare 2010! I did refrain from acting on my thoughts of gluttony.
The event was not really about promoting BCBS but simply a celebration of the exceptional beer. This singular dinner was a once in a lifetime experience and I thank Heaven Hill Distillery, Goose Island and LouisvilleBeer.com for allowing me the pleasure of attending.