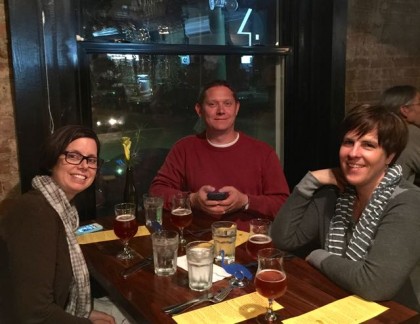 I was fortunate enough to attend the Struise Beer Dinner at The Holy Grale. Mr. Urbain Coutteau – head brewer and owner of De Struise Brouwers was there to talk about each Quadrupel we drank and how it paired with each of our four courses.
Chef Joshua Lehman created a meat-centric four course menu – however, The Holy Grale was gracious enough to alter the dishes for me and my vegetarian friend Kelly.
The first course was steamed mussels with a curry sauce and chunks of toasted bread for dipping – in our case – we were served the sauce and bread. I found this a bit strange. I am no chef but I would bet a couple on shitake mushrooms would have been at home on that plate, and it would have given it some needed substance.
This dish was paired with Rio Reserva 2008. Wow, this was heavenly. Creamy vanilla and soft bourbon flavors melded with a richness that was perfectly balanced with the drying finish. No booziness whatsoever despite the 11% ABV. Just fantastic.
The next course was Duck and Apricot Meatballs, mustard greens and rainbow carrots with a raisin chipotle sauce. Julie said this was her favorite dish of the night. For Kelly and I the meatballs were replaced by roasted cauliflower. This was paired with Westhoek XXXX. Bill and Kelly deemed this their favorite beer of the night.
The third course was Sorghum Cured Pork Belly with Weisenberger grits, chow-chow, and fried green cherry tomatoes with sorghum sauce. Ours was minus the pork belly, but with more fried green tomatoes. That batter was super! This was paired with Pannepot Reserva also from 2008. This beer had been aged in French oak and then in Calvados oak (Calvados is an apple brandy). This too was so very tasty.
I am not a big dessert lover but the final course was my favorite. A Bubblegum and Licorice Crepe did not sound very appetizing on the page but it turned out to be a thing of beauty! The delicate crepe was dressed with butterscotch pudding, bourbon, preserved grapefruit, and fennel. I never associate any of these ingredients as soft or delicate but somehow there was a perfect combination of subtle flavors that was a huge hit with all of my tablemates. My friend Julie deemed it plate licking worthy, although she did refrain. After several high ABV beers I am kind of surprised she was able to!
This fourth course was paired with Sint Amatus 12. According to Mr. Coutteau this sweeter quadrupel was aged in Heaven Hill barrels. Again the booziness was well hidden and the layers of rich, but never cloying flavors were very inviting. This quad was a dessert in itself but it paired so very well with the mildly sweet crepe.
Half of the table deemed the Westhoek XXXX to be their favorite beer of the night but Julie and I preferred the Rio Reserva. Ultimately all the beers we drank were world class, as was the meal. Thanks goes to our charming guest host – Urbain Coutteau and all of the staff of The Holy Grale.