I packed my bags last night, pre-drive.  Zero hour, 5 A.M… I'm not so much a morning person and forgot that Sunergos wasn't open at this point as I made my way down 65 towards St. Louis.  This meant I had to get my coffee from another unnamed establishment to curb my addiction for caffeine.  Finally wearing off was the residual sleep and exhaustion my body was feeling from a night of pre-vacation libations.  I was finally on the way to my end destination, a sun filled week of drinking delicious craft beer in southern California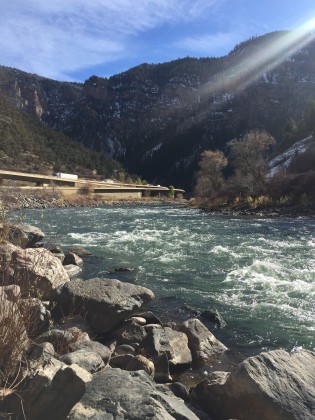 .  The journey would be long and treacherous, mainly long.  I decided to traverse the 70 and go through mountains of Colorado and the beautiful ever changing scenery in Utah, the interstate wasn't shut down yet so it was worth a try.  After 8 hours of driving I stopped at Boulevard in Kansas City, great way to reset for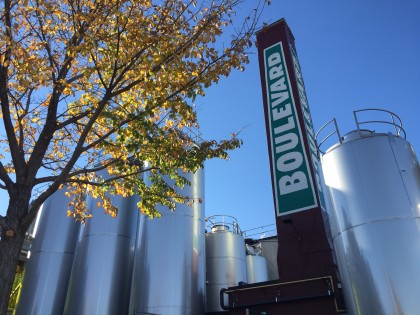 the rest of the drive.  After a long first day I made it to Denver high on caffeine and gas station snacks.  After leaving the next morning I found out that I had managed to dodge a snow storm that was about to hit Colorado, phew!  After a beautiful drive through Colorado and Utah, I was treated to a little rarity in Southern California; A nice light rain that damn near put me to sleep during the last hour of the trip, welcome home Michael.

The next morning the little bit of rain that was encountered washed away the weariness from the road and I was treated to a sun swept morning in beautiful Balboa Park, San Diego.  Craft beer vacation… Begin!  I felt as though I had at least a decent grip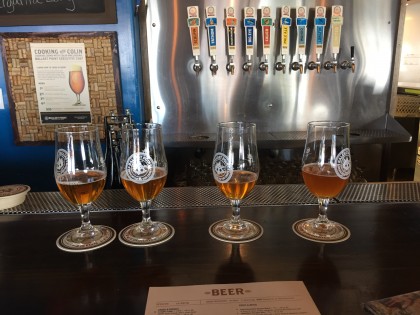 on a daily agenda for the breweries I wanted to hit, it would be a struggle but there was no time to spare.  The first stop on the map was the Ballast Point brewery in Little Italy, a hip part of downtown San Diego that conveniently had a bottle shop right across the street.  Naturally, there were already people waiting outside 2 minutes before they opened.  Drinking at noon is such a marvelous thing, especially when the idea of being back in California was still setting in.  After the luster started to wear, I realized that there was still important work to be done, I cashed out after trying every Sculpin and Dorado variant imaginable and headed to Mission to meet a friend.  The had a good selection of beer which was overshadowed by a barrel release they had made for the U.S. Grant hotel in the Gas lamp district.  A high west whiskey barrel that was used to age manhattan cocktails for the U.S. Grant was then used to age an Imperial red with maraschino cherries, this beer would be one of the finest I had on the trip.  Since I was hitting my stride at this point, it was time to venture to Alpine (still in San Diego County) about 20 minutes outside the city on the recommendation of John King.  He told me this was the brewery that had impressed him the most on his trip to So Cal, he was definitely not wrong in that assertion.  Easily some of the best IPA's I had on this trip.  After several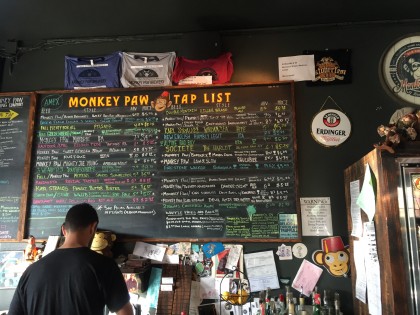 tastes from their small brewery/tasting room I headed to Monkey Paw and was greeted to another stellar tap list from a place with a cool divish/biker feel and solid beer.  Several collaborations with reputable brewers was a clear sign that these guys could hang with the best, this was one of the favorite overall breweries on this trip.  After an intermission of going to the beach to catch a sunset in North San Diego I met up with a few more old pals and headed to Pizza Port in Carlsbad.  Anyone who has had Pizza Port knows that there is no explanation needed for how great their beer and pizza is, if you make it to San Diego, you better not leave without trying this amazing combo.  Day 1 over…

The second day of brewery exploration would begin with The Lost Abbey and Port Brewing, 2 breweries that were under the same umbrella as Pizza Port and their newest company, Hop Concept.  One thing I began to realize at this point, the concentration of quality breweries in San Diego seemed overwhelming.  After trying several great brews, including the best Bei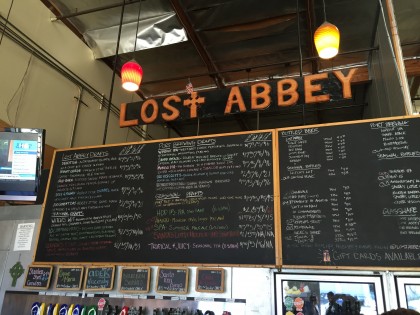 re de Garde I've quite possibly ever had, I picked up a few bottles of Older Viscosity and Santa's Little Helper and left before my wallet got any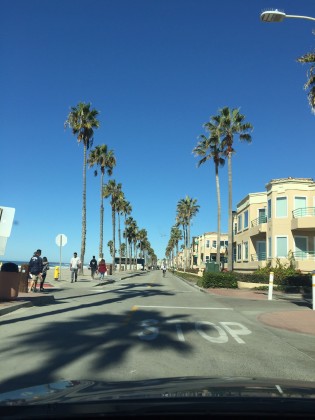 lighter.  Next up was Modern Times, a brewery knew little about but had a nice buzz from friends and various publications on the web.  I walked in and was greeted to the invigorating smell of coffee being roasted… ya that's right, coffee being roasted and brilliantly produced at a brewery is a thing.  To top it off they had 2 variants of a Gose that were very well executed.  Of course I had to try some coffee to give me enough energy to last another full day of drinking beer.  Very neat space with badass decor, this brewery was one of the most fulfilling experiences on the trip and I could have easily stayed there the entire day.  With another great brewery added to the list it was time to meet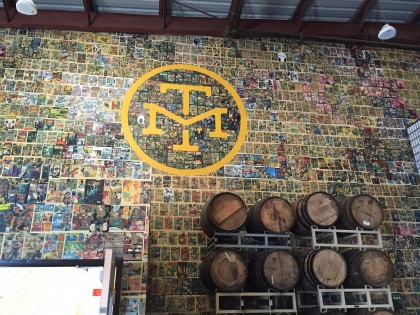 up with a good friend who wanted to show me a brewery that was much smaller than the ones I had visited but one that he promised would be every bit as memorable.  I arrived at a very unassuming commercial complex and was greeted by the 3 barrel system of 2Kids, a brewery that has been opened a little over 2 years that delivered on the promise with an equally impressive sushi place next door that I of course had to test.  From their we venture to Alesmith and stumbled upon a Speedway Stout release night (called their Grand Prix), where the release Speedway and 4 other variants.  At this point I should probably mention the dumb luck that I have had on this trip.   I had inadvertently come to San Diego on a craft beer vacation DURING San Diego Beer Week.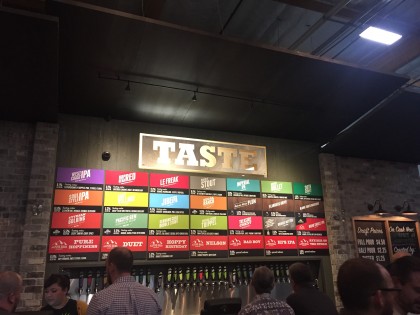 The Grand Prix was one of the events during that week and it was a joyous surprise.  Grand Marnier, Pistachio, Coffee and Bourbon Barrel variants were all in attendance, everyone of which was ordered and tested for scientific purposes.  What a day and oh what a night.  As if it couldn't get any better, we decided it would be a good idea to head over to Green Flash.  The tap list was out of control and a familiar face was there as well, Alpine.  Another beer week event had Alpine doing a tap takeover at Green Flash on a few of the many taps they had.  I didn't know if I could top the first day after so many great breweries, Ill just say Day 2 was a success.
The next morning I wanted to hit up one last place in San Diego before I headed to the Inland Empire to set up shop for the next few days.  I knew that a lot of breweries get their yeast from White Labs but I was more interested in their beer tasting situation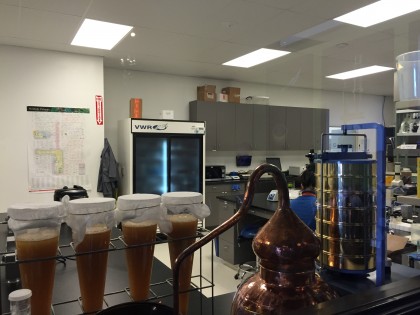 that they started doing more recently.  They had 5 beers on tap, everyone had 4 different variations of that one style with a different yeast strain in each one.  I had the porter with California ale yeast, German yeast, Belgian yeast and English yeast.  It was definitely an interesting way to explore how different yeast combinations can affect one style of beer.  It was definitely a worth while stop on the trip.  With a great last San Diego spot in the books I ventured to Riverside to meet up with some friends to continue the rest of the journey.
To Be Continued….