Round 2… Fight!  After an amazing couple of days in San Diego, it was time to move on to Los Angeles and Orange County to test out their respective craft brew markets.  I had just arrived after a smooth trip up the 15 to meet some friends for the next chapter of this trip.  The plan was to hit a few breweries in Anaheim since they were relatively close.  We chose Bottle Logic first and had an amazing cherry Berliner weisse that was as vibrant as I've ever had from that particular style.  Nice brewing space and a well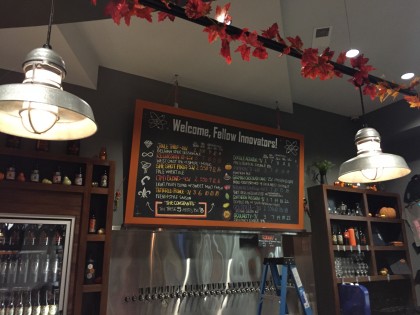 executed, moderately sized taproom in an unassuming commercial complex.  We then ventured to the Bruery, which many of you have probably heard of.  Incredible facility and truly phenomenal beers, one of the best stops of the trip.  The square footage of this place was just insane as they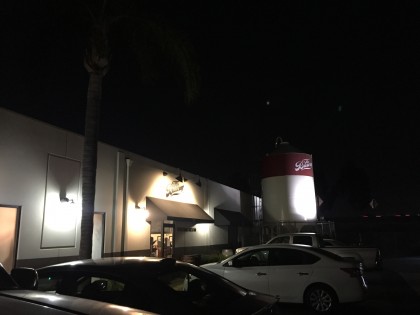 essentially took over a giant L shaped commercial strip mall and turned it into their brewing headquarters/office spaces.  It was interesting to see a company re purpose a space in such a way, it totally worked.  We walked into a pretty packed house for a Thursday.  Several amazing beers on to try, including Sour in the Rye 2012 and Imperial Cabinet (a collaboration with Jester King that was modeled after the famous Ramos Gin Fizz)… these were the clear favorites of the night.  After a few warranted bomber purchases, we stumbled onto the last location of the evening, Noble Ale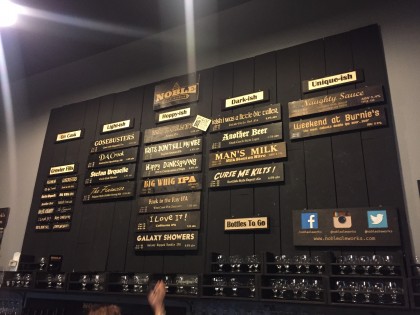 Works.  Was very impressed with this brewery, it had a nice atmosphere with a huge area in the brewery that spilled over from the taproom.  It was clearly needed since they had several  patrons watching Thursday night football on a projection screen inside the brewery.  Yes, they also had beer, some of my favorites from the trip actually.  I've gushed before over my love affair for galaxy hops.  With that said, of course I tried their galaxy showers IPA which was one of the best I had tried on the trip.  Another standout was the Naughty Sauce, which I had previously tried at a bottle craft in San Diego.  Look at this description, a nitro golden milk stout with coffee.  Huge flavor on this beer and although the color was light, it wasn't missing any of the bold flavors you would expect from a stout that uses coffee instead of roasted grain in the brewing process.  Another great night on the golden coast of So Cal.
The next day we decided to hit up LA and take a break from all of the beer over the past few days (maybe).  The first stop was to historic hot dog eatery, Pinks.  If you find yourself in LA, this is a must do.  We were treated to a much shorter line than can typically be expected of this foodie hot spot.  Business men in suits, construction workers and tourists alike will line the sidewalk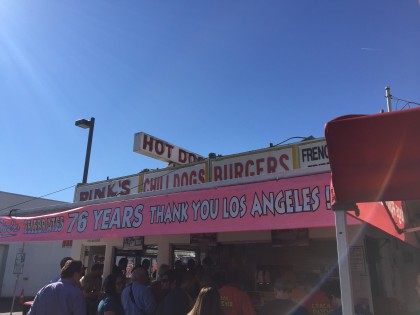 for the world's best chili dog.  Pinks has also seen every celebrity and politician under the sun over the course of its 76 year history cementing it's place in Los Angeles folklore.  After walking gingerly back to the car with a belly full of delicious treats we then headed to the Getty to culture ourselves for the trip.  I'm no art buff, but the Getty is one of the most architecturally incredible places in LA county and gives easily the best view of the city and the coast it sits adjacent to.  Add to that a fantastic collection of artists (Picasso, Van Gogh, Monet and Degas to name a few) and you have one of the best attractions in the city hands down.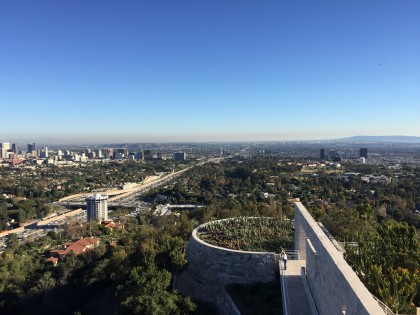 Fifteen dollars to park and you an enjoy the museum for as long as you like.  After a few hours of taking in the sights that the Getty had to offer, it was on to the next place before we were consumed by typical LA Friday evening traffic.  By now the Pinks hangover was subsiding and it was time to get a delicious treat from the Churro Borough in the beautiful area of Los Feliz.  A round of churro ice cream sandwiches and mini churros got us all sugared up for the drive home, in traffic naturally.  After an hour of frustrating stop and go driving we got the brilliant idea of having a beer or two at a brewery close by called Eagle Rock.  What would totally be a spur of the moment find would wind up being another solid brewery that had some stellar brews, including a nice Marzenbier collaboration with Sunset Beer.  Got back on the road and about 15 minutes before getting back to the hotel decided to stop for one more in Corona at Skyland Aleworks, a tiny brewery that was making some pretty good beer for just being open one year.  Trying to reflect on the past few days with an Imperial Porter in hand made me realize I only had one full day left before leaving this amazing experience behind.
Saturday morning brought a second wind to the trip with a renewed sense of the mission, get to as many breweries as possible to survey Southern California's revolutionary craft beer scene.  There was still work to be done, no time for rest.  Since San Diego and Orange County had already been covered extensively I decided to venture back to LA to check out the city of Torrance and the craft beer renaissance that has taken hold of this great little city in the south bay of Los Angeles.  Got started at Monkish and was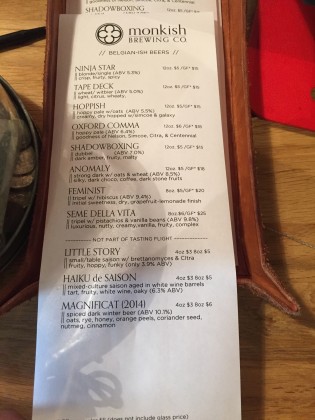 very pleased with the all Belgian style menu, this brewery has a special place on this trip just for that concept, let alone that the beers were also all very good.  Tried both of the Saisons on the menu, of course.  The Haiku de Saison was my favorite.  A rye brett'd farmhouse ale aged in white wine oak barrels, bright and tropical body with a fulfilling sour finish.  Next we went to Dude's brewing, almost right around the corner from monkish.  Had a tasty White Russian Imperial Stout on nitro, very urban style brewery with bench seating in the taproom/brewery.  Now we're on a role.  Journeyed about a half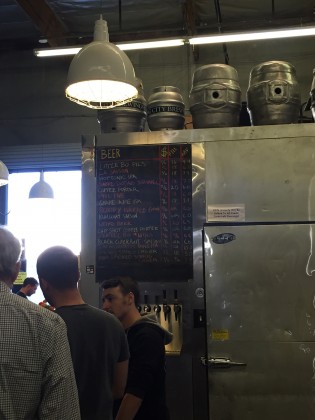 mile to Smog City brewing, my favorite brewery in Torrance.  Had a delicious triple IPA, a bourbon barrel aged Rauchbier and a black currant Saison.  The black currant Saison was unbelievably laced with dark berry flavors and a pleasant bitterness to balance this well executed farmhouse ale.  After another great brewery added to the log we headed to a newer brewery that had a monstrous space for future expansion, Strand.  For offering such a limited menu I was honestly not expecting much.  To my surprise every beer I tasted there was really outstanding, the winner here was a rosemary infused amber ale that just turned out really pleasant, especially on the nose.  The next brewery on the list was Absolution.  I wasn't really blown away by any of their beers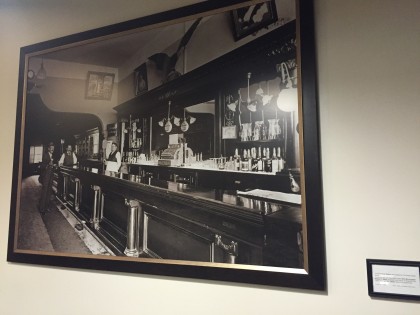 unfortunately but had a noir barrel aged red ale that had the very gentle characteristic of a sour wine, it was actually quite tasty.  We hit the road after being thoroughly impressed by what Torrance had to offer and headed back down the 91 en route to one last stop we didn't get to make on our original trip to the OC, Anaheim Brewery.  A pre-prohibition revived brewery that was originally established in 1870 and re-opened under the same moniker in 2010.   An old wooden bar top and classic saloon feel really gave you an alternative environment that you just don't see with many brewery tap rooms that tend to be very industrial chic.  Tried there Stout, Porter and Coast to Coast IPA, all were very well done no frills craft ales, which is very appreciated considering the theme of this establishment.  A bittersweet drive home would conclude the brewery tour in Southern California.
The next morning we left fairly early, headed back up the cajon pass towards barstow, jetted up the 15 past Las Vegas and connected back to the 70 through beautiful Utah.  A sun swept afternoon drive on the 70 before we hit nightfall at the base of the mountains in Colorado finally making it to another night in Denver.  The next morning would be the final day of the trip and unfortunately ushered in another mind numbing drive through Kansas.  After what felt like an eternity we drove through some pretty nasty weather around St. Louis before finally making it back the Ville.  After a great vacation it was a welcome feeling to be back into the city that I truly love.  Thank you California for another great trip and here's to the next one in Nor Cal where it could be argued that the breweries might be just as good.  Guess there's only one way to find out…
Oh by the way, did I mention I grabbed a few beers to bring home…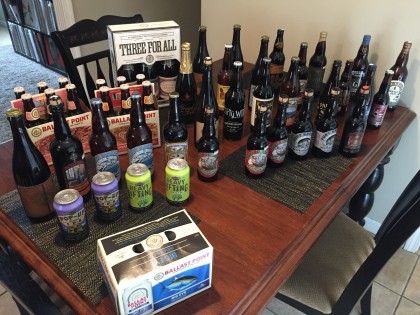 Until next time folks, Cheers!