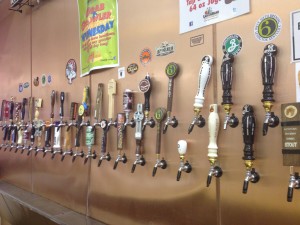 As I was standing there enjoying my Blue Sunday Wild Ale from New Holland Brewing Company, a thought hit me.  The tap wall at the Liquor Barn Springhurst location is the best kept secret in the Louisville beer scene, and I stand by that 100%.  Flanagan's may be where I discovered craft beer and BBC St Matthews (which I wrote about here) is where I learned to love the local craft beer scene, but Springhurst, and more importantly their tap wall, is where I truly sharpened my teeth in this hobby we love.
LB Springhurst, being close to my place of employment, was always my go-to for a beer run so I was familiar with the place.   Even back then, before the local beer scene really blew up, LB was the place to go for craft beer.  I don't know exactly when the tap wall was put in, but I think it was sometime around 2007 or 2008.  Around that same time I befriended Drew Johnson, the beer buyer at the time for LB.  Before long the tap wall was pouring beers and I was stopping by a few times a week to try new things or enjoy current favs while shooting the shit with Drew.  I guess that's how my love affair with this spot got started.  Fast-forward seven or so years and Springhurst remains my go-to spot.  Drew is still around and has been joined by Todd, Rhett and crew and the beer selection is as quality as ever and is continuously growing.
The tap wall pours 40 beers at a time, both local and national brands.  As impressive as this is, it's the actual beers that have been/are available on the tap wall that makes it even more special.  The local beers are always well represented.  At anytime you'll find at least 7 or 8 taps featuring the likes of Against the Grain, BBC, Country Boy, West Sixth, and Cumberland, if not more.   The rest of the lines feature a great cross-selection from breweries you can find in the area, both the normal selections and many seasonals/one-offs.  And, on occasion, true whales will be brought out for people to enjoy.  I've seen rarities such as Great Lakes Barrel-Aged Blackout Stout, Three Floyds Permanent Funeral IIPA, Goose Island Bourbon County Stout, and Founders Kentucky Breakfast Stout available at one time or another.  These are some serious heavy-hitters folks.
The selection is hard to beat, but being able to easily sample these beers is what makes the LB Springhurst tap wall truly shine.  Samples are available in 2oz and 6oz sizes, allowing people to sample multiple beers without worrying about about forgetting your name or falling through the nearby olive bar.  For a person just getting into the craft beer world, this is the perfect way to sample both new styles and new beers.  For the more experienced drinker, there's always enough of a rotating selection to make no two trips alike.  On top of this Liquor Barn often hosts brewery nights and tap-takeovers, giving visitors a chance to try multiple beers in a brewery's portfolio and meet representatives from the brewery.  Many times these are area sales reps, who are cool as hell to chat with about their beer, but even beer celebrities are known to make an appearance.  Earlier this year Brooklyn Brewery's Garrett Oliver, he of world-wide fame, stopped by for the Brooklyn event.
Back to my bold claim from the first paragraph.  I've been frequenting Springhurst for a long time now and it's amazing how many of the same people you see hanging out around the tap wall on a Thursday or Friday afternoon.  I know that all beer spots have their own set of "locals" that lay the cornerstone for the clientele, but I feel that LB's is just smaller than anywhere else, especially when you consider what all they have to offer.  I just don't' feel that many people realize how easy it is to try a number of great beers, especially at the price point.  It's the simplest, most economical way to sample beer (and grab a sixer/four pack/bomber of your favorite on the way out).   Hopefully that will change going forward, as LB Springhurst deserves a lot of credit for what they are offering our beer community.
I know it's not in the middle of the craft beer hot spots in Louisville, but Liquor Barn Springhurst is worth a visit.  You're guaranteed to find something you like on draft (that's my guarantee, not theirs) and you never know what surprises you may find.  That, my friends, is why the tap wall at LB Springhurst is the best-kept secret in the Louisville beer scene.  100%, hands down.
Cheers!