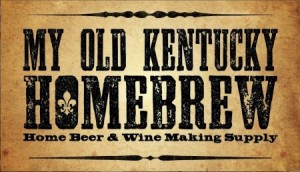 It probably goes without saying that I love a good beer. One of the biggest reasons I got into homebrewing was the limited craft beer selection in my former New Orleans home. For a city that has amazing food, you usually have to wash it down with a Miller or (hopefully) an Abita Amber. When I frequented the now defunct Brew-Ha-Ha Homebrewing Store on Magazine Street my choices were simple: Pale Ale, Red, Porter, Amber, Stout etc. Not every recipe was available every time I went in, but I made what was there and thought it was pretty good stuff. It wasn't always the recipe I wanted to make, but it was beer, and I was a poor college student. Considering my options, I obeyed the circumstance. I like to think I'm a little older and little wiser and, since moving back to Louisville, my choices in beer and life have grown. When I opened My Old Kentucky Homebrew two and half years ago, I wanted to offer more options to brewers and give a personal experience where customers can put together exactly the beer they have in mind.  I believe that if a homebrewer can create any beer he or she wants, then every recipe leaving the shop will be a quality example of craft beer.
Every time I sell a new equipment kit there is a look of excitement in the brewer's eyes when I tell him or her that a Bell's, Dogfish Head, Stone, Southern Tier, or a Rochefort recipe is now totally at their grasp. Beers that can cost upwards of $8-$12 a six pack can be made for less than $1 a bottle. Despite what I would consider an ample amount of inspiration and the opportunity to get more bang out of your beer bucks, every now and then someone comes in who just wants to a brew something that will taste like a Bud Light. I may secretly grimace a bit and throw out the occasional "really?" but I will help him put together the recipe, compile equipment, write out directions and answer any questions. Now, if I love a good beer, why would I let someone walk out of my shop with a bag of corn and only one ounce of hops?  It's because I love a good craft beer and there is no beer better than the one you make.
At the shop, I keep a bulletin board of locally submitted recipes and a collection of books and magazines full of microbrewery clones. I can put together a hoppy porter, apricot wheat, or even a cherry-oatmeal-chocolate-coffee-bourbon-barrel stout. I also keep recipes on hand similar to Bud, Miller, Coors, Killians, Blue Moon, and a lot of other beers that might seem heretical to most craft brewers and enthusiasts. I don't believe it matters where the recipe originated, I believe it matters that this guy is going to make the beer he wants. I may try to show him the technical differences between ales and lagers and joke that it takes a lot of equipment and time to make a beer that tastes that bad. I freely admit that I will try to introduce him to a gateway beer like a kolsh or a cream ale and even though he may still go with something closer to a Budweiser, it will be a craft product because he will make the beer he chooses to make.
As the craft beer world evolves, brewery ownership changes, and agendas are created, the opportunities for a commercial brewer to create his or her own beers may become few and far between. The good news is homebrewers and craft beer lovers can take solace in the fact that when someone hands you a homebrew, you're drinking a craft beer. Whether it's a Hopslam or Bud Light recipe, someone made it. Someone took the time and effort to brew this beer for the sake of making the beer they wanted to drink and share.
What we consider to be craft beer is going to change with time. Budweiser was once a microbrewery much like Godzilla was once a baby lizard. I believe that as long as man continues to combine water, barley, hops, some more hops, yeast… then some more hops, and is brewing the beer he wants to drink, then he is making craft beer.