You heard about BBC rebranding as Goodwood Brewing here first, now here are the details on their beer lineup:
Goodwood Beer Everyday Lineup
Louisville Lager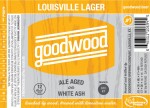 Aged on white ash, which is what Louisville Sluggers are made of. Dearner explained, "Ash is a hard wood, which isn't going to add too much to the beer, per se, but what it does is give us more surface area in the fermentation vessel for the yeast to work, which will cut a week off our fermentation.
Walnut Brown Ale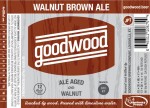 "A tough nut to crack – Use a bottle opener" is the great slogan on this beer. Replacing the old Nut Brown Ale that's been around for a while. Dearner said the new recipe will have more body and a touch of chocolate malts. The label says, "16th-century England and using a blend of six choice malts and two English hops, Walnut Brown Ale features notes of caramel and chocolate with a finish that is – you guessed it – pleasingly nutty."
Kentucky Pale Ale "KPA"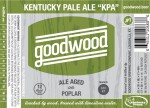 This beer is Dearner's baby. "We knew we needed a hoppy beer in our everyday lineup", said Dearner, "We've seen our American Pale Ale sales drop off the last couple of years". People want a hoppy beer, and this one delivers, all while standing out from the other IPA's by being a KPA aged on wood. This is aged on Poplar, which is Kentucky's state tree. Expect a floral, citrusy pale ale with a sweet, malty backbone with a lot of body. This will have a lower ABV, so it's sessionable, which is all the rage these days.
Bourbon Barrel Stout
This one h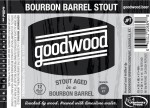 as been a big seller for BBC, so they're keeping this guy around. They will tweak the recipe a bit on this one, but it will be similar to what's out there now. The label describes it as a silky American stout that has notes of oak, dark-roasted malts and, of course, bourbon. Roasted barley produces chocolate and coffee flavors with a lasting vanilla finish.
Bourbon Barrel Ale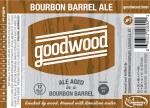 Goodwood's Bourbon Barrel Ale is refined by its time in the cask, not defined by it. The process produces balanced, adjunct-free ale with delicious bourbon notes. This copper-toned beaut is medium-bodied and malt-forward with a hint of sweet caramel. It finishes strong and dry with notes of vanilla and bourbon-soaked oak. The label mentions that "aging bourbon is a barrel's audition for Goodwood". Genius.
Brandy Barrel Honey Ale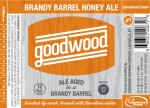 Goodwood uses casks from some brandy-distilling friends to patiently age our Honey Ale – super freaking patiently, actually. Brandy Barrel Honey Ale is brewed with locally sourced honey and aged several times longer than our other barreled beers. But you don't have to wait another second.
Dearner said the plan to use local Copper & Kings barrels when possible.
Red Wine Barrel Saison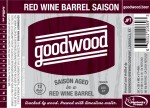 This one will age in different style wine barrels, and each batch will be named on the necker label. This allows for some subtle different flavors that will allow people to find their favorite and "collect 'em all". I don't know of another beer that does this. The label says, "This beer for all saisons is enchantingly complex with notes of toasted oak, subtle fruit, barley and, of course, red wine – a truly one-of-a-kind taste experience that will turn your expectations sideways."
---
Goodwood Labels
And what the hell does JPT stand for on the bottle? One can only guess…
Bottle Photos
The labels look best attached to a bottle filled with yummy, yummy beer. As seen below: