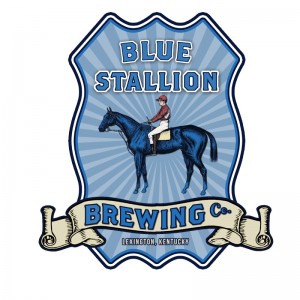 LouisvilleBeer.com: Tell me a little about your team, and the experience behind them:
Blue Stallion Brewing: We have 5 partners involved in the brewery; Jim Clemons – chemical and process engineer, Nico Schulz – food science professional and brewer, Xavier Donnelly – MBA holder and e-commerce specialist, Kore Donnelly – MBA holder and finance officer, and Zac Donnelly – graphic designer and artist. Jim, Nico, and I have been brewing on a small scale for many years and Nico has worked as a brewer in a small regional brewery in Germany so we share a passion, not just for good beer but for how it is made.
We share many traits but more importantly we each offer experience and education to the team that would leave a hole if one partner wasn't involved.
LB: Tell me about the name of the brewery:
BSB: We wanted a name that reflected the area and decided early that we wanted it to be related to the horse world. We did a lot of research on breeds and training techniques trying to find a name that fit us. We finally came across the legend of "Big Lex" – rumored to have turned blue from grazing on the bluegrass in the region. We also found that the most successful sire in the mid-nineteenth century was a stallion called Lexington. We even put a likeness of Springbok, "grandson" of Lexington on the logo. We liked how the Blue Stallion fit what we wanted in a name and are pleased with the response we have received about the name and logo.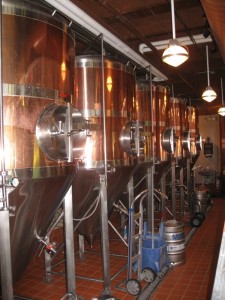 LB: Have you secured a location yet? How are things coming along? Do you have an opening date?
BSB: We are happy to announce that we will be opening in a beautiful building at the corner or Third Street and Newtown Pike. The address is 610 W. Third Street and we plan to begin work on building out the brewery November 1.
We expect delivery of our 15 barrel copper brewing system on November 1st and 2nd and will have our hands full building the brewery and tasting room. We expect to be open by late February or early March but will have a much better idea once we begin work.
LB: What beers are you hoping to offer when you open?
BSB: We've developed a passion for the beer styles that originated in Germany and Britain and plan to open the doors with German hefeweizen, Scottish 70 schilling, and a couple of lagers. We have spent the spring and summer brewing pilot batches on a Brew Magic system and are refining our recipes now. We plan to begin offering more selection later in the Spring and Summer 2013.
LB: How many beers will be in your arsenal? What types of seasonals are you planning?
BSB: We plan to have 20 taps available at the tasting room at 610 W. Third Street and will eventually fill most of those with our beers, however we also plan to offer beers from German, British, and American craft breweries to complement our selection. We have several season beers in mind and will be making an announcement about some of those as we get closer to opening the doors, you'll want to check out Facebook and Twitter accounts for more on that.
LB: Are you planning on bottling or canning? What about distribution throughout the state?
BSB: We have always planned to bottle our beer, especially our most popular beers and are working to have that capability ready as soon as possible after the tasting room opens in the Spring. We will be talking with distributors in Kentucky this Fall and will have our draft beer available in bars and restaurants around Lexington and hopefully Louisville soon after launch.
Of course we won't be distributing all of our beer styles and folks will want to stop in to the brewery to try our specialty and seasonal beers.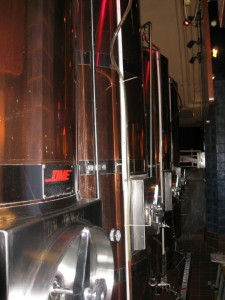 LB: I love that Lexington is suddenly becoming a "beer town". Can you talk a bit about why you think it's growing so quickly. Are college kids wising up and drinking better beer, do you think?
BSB: Lexington has been primed to become a craft beer destination for years. The typical craft beer drinker demographics match perfectly with a large portion of the Lexington population. Additionally, the move towards buying locally made products has opened up the door to a business like a craft brewery.
The young people in Lexington are certainly switching to better beer earlier than when I was in school 10 years ago, of course it was a lot harder to find good beer back then – more craft breweries mean more people get exposed to good beer which is good for everyone.
LB: Each of Lexington's 3 breweries is finding it's own niche, and I think that's smart. It leaves room for everyone, and furthers the options for good beer in a city the size of Lexington. Even though there's been some turnover and "trades" in Louisville's beer scene, it's still a really close knit group of people who would bend over backwards to help each other out. Talk to us about how you see all of the breweries working together in Lexington.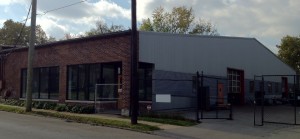 BSB: We have a great working relationship with the folks at all three breweries and would like to thank them all for being supportive of us as we have called, emailed, and showed up unannounced many times to pick their brains as we developed our business plan. There will be an interesting synergy among the Lexington breweries for several reasons. First of all, we aren't competing with each other; we are really competing with the giant national breweries that make lite lagers. The more people we expose to good beer, the more people will switch to drinking craft beer. Secondly our physical proximity will make drinking craft beer in Lexington an event and will begin to put Lexington on the map as a craft beer destination. The Jefferson Street / Newtown Pike-extension corridor will have all 4 breweries within a 2 mile drive, bike ride, or walk. Who wouldn't be excited about that?