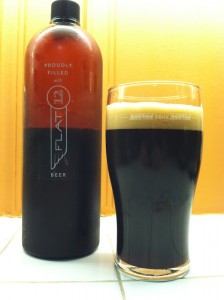 I obtained this 1 Liter growler at the Flat 12 Taproom in Indianapolis. Poured  heavily into a tulip pint glass resulted in a modest sized tan head that left strings and freckles of lacing. The body was decidedly opaque with faint red highlights.
The smell was the weakest aspect of this beer. I found it to be ashy with some damp grains.  Iced coffee notes but no citrus. Overall the aromas were a bit too quiet.
The taste was light chocolate malts and after it warmed – sweet oranges. The refreshing tartness was gently balanced with the lightly sweet malts. This beer had an understated citrus sourness that was complimented by the clean coffee and chocolate notes. The finish was semi-dry but left a trace of sweet stickiness on the lips.
The texture was true to the style in that it was lightly carbonated and smooth.  Its body was medium to light, and overall it was very drinkable.  Porters are often underappreciated but this was a well-crafted and enjoyable beer.