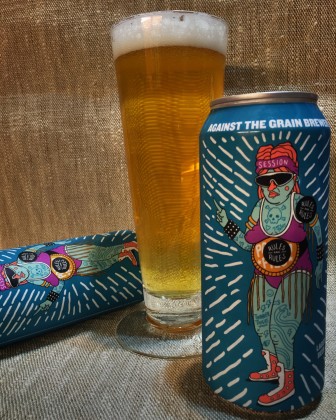 I love a good pilsner. In relation to all of the good ales available in the craft beer world, pilsners are hard to find. Most craft beers are ales, brewed with top fermenting yeast. These ferment faster and require less time lagering.
Pilsners are a type of lager that are made with bottom fermenting yeast. They are more subtle, clean, and literally more transparent -Pilsners don't hide "off flavors" as easily as ales. Breweries can have higher turnover with ales than lagers. The time and the difficulty in "covering-up" any flaws in the brewing process makes producing lagers and pilsners less appealing for many breweries, so it always a nice treat to see a smaller brewery produce a lager.
Another factor in seeing fewer pilsners in the beer world is that most people don't find them sexy. Pilsners are a far cry from limited, barrel aged stouts or amped up Double IPAs that are very popular.
I love a good pilsner. A fresh Pilsner Urquell is a classic and favorite of mine.
I was happy to finally try Poffo Pils from Against the Grain Brewery.
I poured from a 16 oz. undated can into a classic footed pils glass. Ms. Thunder Thighs on the label is a bit frightening but I soldiered on. The professional wrestling theme of this beer overall scares me, but that is a topic for another day. The beer was bright and clear – somewhere between straw and butterscotch colored with a frothy white head. Very pretty.
The aroma was of clean, cracked grain and reminiscent of a bag of lemons.
The flavor was a crackery dry maltiness. Lemony with a hint of vegetal sweetness. After this came the spicy sizzle of earthy hops. I recognize this noble hops profile (or another spicy hop variety) from some of my favorite Czech/Bohemian style pilsners. This one finishes clean and dry. Classic.
There was plenty of zesty carbonation in this medium bodied beer. Rich and smooth on the tongue but light and clean in the end. Overall this is an easy to drink, flavorful lager that I would chose over Oskar Blues Mama's Yella Pils or Victory Prima Pils any day. The fact that it is offered in 16 oz. easily packable cans is bonus. I hope I can find this one all summer.