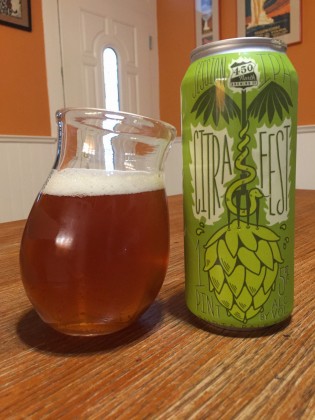 The body of this 450 North Brewing Citrafest session IPA, from Columbus Indiana, was a deep golden-apricot color. It had a creamy off-white head that did not linger. Depending on where you look a session beer is defined as a lower alcohol beer that one can drink multiple servings of throughout a "session" and avoid becoming overly intoxicated.
Unfortunately the smell of this beer was a little disappointing; the subtle earthy and fruity notes were rather subdued and somewhat weak.
The taste was an improvement – raspy, earthy hops were flavorful. However, I did not really get any of the tropical notes associated with Citra Hops. With the name "Citrafest" I expected some melon and tropical fruit characteristics that the hop is known for. There was a bright, lemony flavor, but it was not too sharp or biting. Floral elements, pine and a bit of aspirin are also in the mix. There was an overall non-descript fruity-citrus character. These absences could be due to age, or maybe it is just brewed this way (?). Due to the lack of any date stamp on the can it could be less than fresh – who knows. There was a general lack of heft or flavor from the grains.
This could be a nice IPA with bit more body, but at 5% ABV it straddles the session/standard IPA line. The IBUs are 45, enough to give it a little bite but still very drinkable. It finishes with a nice, lingering, citrus-rind bitterness.
The body was somewhat thin with modest carbonation. I have mixed feelings about this one. I don't really see this as a session beer due to the higher ABV, but it is too thin and lacks enough viscosity to be a solid IPA. Perhaps it is more of an over-attenuated IPA. I would like to reassess this beer knowing I had a fresh one. Either way – it is an easy drinking beer with enough tasty characteristics to induce me to try it again in the future.