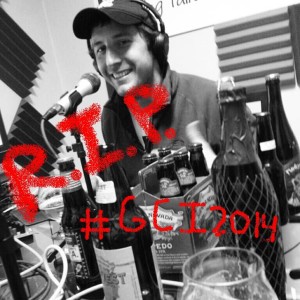 Things I could write about:
The debauchery and shit-show known as Hunahpu Day 2014. Nah, it's been done and I don't really care. (ISO: Hunahpu).  It's just beer folks. ( ISO: DB HUNA)
Two recent articles about the Kentucky Guild of Brewers and the Louisville craft beer scene.  Nope, I've annoyed too many people for posting those everywhere.  I'm still waiting for the Mayor to respond to my "kick in the balls" comment. Balls in your court Greg, literally.
NABC Gravity Head is still going strong.  Where is this bus from Louisville to the Public House? Paging Mr. Baylor…Breaker 1-2.
Getting the boot from our podcast building due to the "Great Cookie Incident of 2014" and the fact alcohol is a "liability" when consumed. Deuces Douglass Loop.  Introducing, Live from John's House.  We got tired of Daryl getting all the limelight anyways.
Visiting Cincinnati for Bockfest and visiting one of the newest members of the KGB, Ei8htball Brewing (their website is dope).  Ei8htball has a kickass brewery in Party Source with four of their beers among the forty you can choose from.  Thanks again to Mitch for donating some K-Hole (imperial coffee stout), Word?! (scotch ale), and Michael J. Bocks (maibock) for our podcast.  Here are a few pics (not included in the pictures are me falling. Twice:
Or how about the upcoming St. Patricks Day holiday where everyone gets shit-showed and there hasn't been as much as an explosion of green since Kermit, Slimer, the Green Giant, the Great Gazoo, Gumby, Zorak, Yoda, Blanka, TMNT, and Greedo all attended a fish bowl party.  Green beer sucks, unless you are heading over to ATG for their Collab with Blue Stallion.  I'll be there in green pants or some shit.
Then there is the fact some rando article in the CJ came up in regards to McClearn Brewing Company.  McWhatTheShit Brewing?  A proposed production brewing off Swan and Breck that no one has heard of with no sales to public? Good luck guys/girls!
Against the Grain is getting things done folks.  Rumors are they will not only be at Forecastle, but also in Slugger Field this year.  There is a rumor, more KGB breweries will be in Forecastle but more the come…either way, I'd love to see more KGB beers in the hands of hipsters than PBRs.  Thanks to ATG for kicking ass. I miss your texts, Sam. Call me.
BBC on Clay and Main making some news in Business First about growing.  I went to a private sampling the other day to get some opinions on a new beer they may be dropping in the market.  They also got some new TV's to show bar patrons old wrestling or celebrity competition shows.
How about some of the most recent releases to hit Louisville:
Great Lakes Chillwave: buy a four pack to make you remember how stupid of a name it is. It tastes awesome though.
Oskar Blues Gubna: Lor' luv a duck! Scapa Flow ahead an' pick some up some ov dis imperial IPA made aaaht ov Colorado. Know what I mean? #cockney
Founders Oatmeal Nitro: head to Nachbar and try it and tell James we sent you. Pet the cat too even if you are allergic.
Sierra Nevada Mixed IPA: A mix of session IPA, white IPA, black IPA, Torpedo…just don't plan on enjoying food after your tongue needs scraped.
Stone Stochasticity Project Grapefruit Slam IPA– What the shit Stone? How am I supposed to order this at the bar after a few beers? "yea, can I get the electricity pause great food slam IPA please"?
3 Floyds Live A Rich Life: You will have to if you plan on keep buying all of 3 Floyds expensive beer. #SOMETAL!
Ok, screw it…I can't think of anything else to write about. Just read what's above, please and thanks.