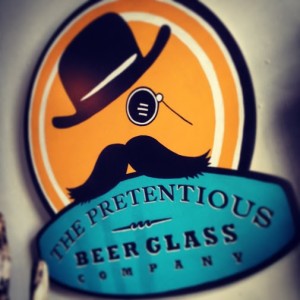 Back in September of 2013, approximately nine months after opening the Pretentious Beer Glass Company (PBGC) and its corresponding Etsy shop, Matthew Cummings sold his 300th order.  At the time he was hoping for another 65 orders to be sold before January 1 came around, totaling sales at nearly a purchase a day.  Funny how things work though as Cummings' pet project was about to explode, figuratively speaking of course.
"The beer bloggers had been writing a bit about the company, but it wasn't until the food blogs got involved that things really picked up," noted Matthew.   "One blog called Foodbeast.com had its PBGC story picked up by the Huffington Post, on the same night as a pop-up at Against the Grain, and that's when things got crazy."
I was actually with Matthew that night at AtG and remember him noting the numerous emails signaling a glass or glasses had been sold on his Etsy shop.  Full disclosure, Matthew (or Matt or Cummings as I call him) is a dear friend of mine, going all the way back to our days as pledge brothers at Centre College.  I've seen him nix philosophy for a future in glass blowing (probably a smart idea) and also seen his descent into and growing love of all things craft beer, both enjoying the beer and brewing it.  So watching PBGC grow has been a lot of fun for me.
Another disclosure, as apparently that's my theme today, is that I was a bit skeptical when Matthew pitched the idea for PBGC to me back in 2012.  I had no doubt in his glass-blowing skill as anyone who has seen his sculpture work can attest to how amazing it is (here's a review of a recent art show he was involved with).   I was more skeptical in the market for higher cost, hand-made beer glasses.  As beer nerds this can be hard to admit, but craft beer is a niche market in the beer world as a whole.  People willing to drop $35 on a single glass would have to be a niche within that niche, or so one would think.  Luckily for Matthew, that niche seems to be larger than I ever imagined.
"I don't know how many glasses have been sold, but the Etsy shop is nearing 3,000 sales.  I can't tell you how many have been sold at pop-ups, on premise, or to friends/family, but it's a lot more.  We make glasses 6 days a week and are still back-ordered nearly 7 weeks."  First off, sales on Etsy are at 2,796 as of this morning (I just checked).  Second, I can attest to this back-order.  A recent visit to the PBGC headquarters in the Mellwood Arts Center, one where I thought Matthew and I would sit around with a six pack and shoot the proverbial shit, resulted in me helping box up about 70 packages, one of 3 loads set to head out for shipping that week.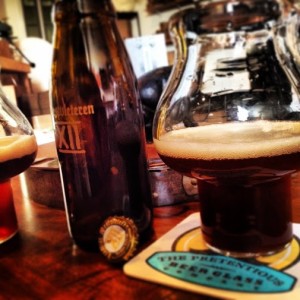 The success has been amazing, resulting in articles/mentions in many top beer publications such as Draft Magazine and Beer Advocate Magazine as well as non-beer locations, such as Maxim and a main article/front cover spread in Kentucky Monthly Magazine.  And all of this success is leading PBGC in a direction likely not envisioned in the early days of the company.  Unfortunately for those of us in the Louisville area, that direction is about 250 miles south.  Yep, Matthew and his wife will be moving to Knoxville, TN this summer, setting up a PBGC head-quarters (though still keeping a satellite team in Louisville to make a portion of the glasses).
"I'm excited about the possibilities of Knoxville.  We're going to bring two things that they do not have.  We're going to have a glass studio where people can see glass blowing and we're going to have a real adventurous nano/microbrewery," said Matthew as we sipped on a Trappist quad out of his soon-to-be-released Sauvin Glass.  He went on to explain the concept a bit further.  What he pictures is having a large space divided into three different areas, all separated by large glass windows/doors.  On one side he envisions having a glass-blowing studio, where they will make the actual glasses as well as renting out space to blowers in the local community.  Opposite the glass shop will be the brewing equipment.  Sandwiched between the two would be a tasting room, serving beer from the brewery in glasses made in the glass shop with patrons being able to watch both things being made.
The whole set-up sounds ambitious, but he explained that Knoxville is lacking both craft beer and a glass-blowing studio open to the public.  Combining PBGC with an actual brewery sounds like a natural fit for a town that appears to be ripe for a craft beer explosion (similar to what Nashville is experiencing a bit further west).  Speaking of the brewery, Matthew plans to hire a professional brewer, even though he'd love to be able to still take part in the process somehow.
No matter what, the Pretentious Beer Glass Company has grown by leaps and bounds since our very own John Wurth wrote about them here in late 2012.  And even though Matthew is excited about the next steps for PBGC, he realizes what Louisville has meant for his company.
"I don't think Pretentious Beer Glass Company could have started in any city other than Louisville.  All of the support for small businesses, all of the creative people in this town, the awesome beer scene.  So many people have helped out and the local community has been so supportive with getting started.  The event in the Choir Loft at the Holy Grale, it was crazy, the support, it was awesome.   It's grown, it's been embraced by people nationwide, worldwide but I am a little sad to leave Louisville.  I really don't think it could have started anywhere else."
Cheers to that Matthew.  Cheers to that.