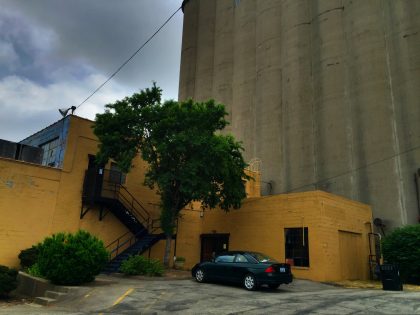 I look forward to the opening of Mile Wide Beer Company; I plan on winding down my summer there. The new brewery will be located at 636 Barret Avenue and the projected opening is late August or early September 2016.
Mile Wide Beer Co. is named for the mighty Ohio River; which is a mile wide right here in Louisville, KY. Scott Shreffler, one of the founders, showed me around on my recent visit. We walked around amidst the busy work of transforming the former Jillian's nightclub into a working brewery.
The 15 beer barrel (bbl) brewhouse equipment will be arriving in June. Right now the brewer is working on the pilot system testing and refining recipes for the brewery. They hope to brew about 1700 bbl in their first year.
There will be 12 taps of Mile Wide beers. No guest taps, except perhaps when releasing a collaboration beer, which they hope to do regularly. A Witbier (literally translated to "wheat beer") will be their sole year round beer. Not many breweries offer a Witbier as their flagship beer.
I generally avoid a Witbier, it is not one of my favorite styles (I prefer IPAs and sour beers). The Mile Wide Wit, an Americanized Belgian style ale, had a refreshing citrusy twang – very flavorful and possibly too easy to drink! It was low on the typical Witbier spices (coriander) and yeast forward flavors, but higher on the quenching citrus zest and snappy wheat characteristics. I expect this cloudy wheat beer will be a very popular offering. Beer House will distribute Mile Wide beers in Louisville.
In addition to the Witbier they will have a variety of beer styles available on opening day, including a Bohemian lager. I was excited to hear of this possibility since this is an under-represented style among smaller breweries. They are more difficult to make due to the subtly and lightness that prevents masking brewing flaws. Also, they require more time lagering, which takes valuable space at a brewery. I certainly hope a crackery, dry, Noble hopped lager makes it into their portfolio of beers!
Scott informed me that they would be brewing a rotating and wide variety of IPAs (the most popular beer style in the US). These varieties will be called the Scavenger Series. The recipes will be created based on available resources (just like any world class chef). To me this is a benefit; I love trying new, fresh flavors. Unfortunately this is, at least partially, due to hops shortages this year. Limited and inconsistent quantities have forced many breweries to use less popular hops, new combinations, or fewer hops. The one I tried used hops from the Northwest and it was delicious. I look forward to sampling the many variations of IPA they will create.
Many years ago this space on Barret Avenue started as a Pillsbury Bakery (West 6th Brewing in Lexington, KY and the Monnik Brewing building have also formerly housed bakeries). This complex was also the site of Louisville's first modern brewpub – The Silo Brewpub back in 1992. The grains keep returning – in liquid form!
Kyle Tavares, head brewer for Mile Wide Beer Co. is a UofL chemistry graduate. Additionally, he is a Siebel Institute of Technology trained brewer with QC and brewing experience at Schlafly Brewing in St Louis, MO.
Scott Shreffler is also an alumnus of Schlafly Brewing. He was the former Regional Beer Rep for Schlafly here in KY.
The other founders are Matt Landon, who has a background in construction and is keeping the finances in order for Mile Wide Beer Co., and Patrick Smith, owner of River City Drafthouse. Mr. Smith and Mr. Shreffler are both Certified Cicerone® recipients, this is an exam certification for professionals dedicated to beer. Currently there are only 13 Certified Cicerones in Kentucky and Mile Wide has two of them.
In building the brewery effort is being made to use locally sourced goods and services. They have repurposed materials from the building itself in their remodel, including some light fixtures, much of the bar, and various reclaimed wood. I am told that the former bar's disco ball may make a re-appearance.
Mile Wide will be the first Louisville brewery to offer Crowlers – large aluminum "to-go" cans that will be filled on-site. They are lighter than glass growlers, shatter-proof, less expensive, highly portable, and easily recycled.
In addition to the reduce/reuse/recycle ethos of Mile Wide Beer Co. they will be providing their spent grain to a local farmer for the cattle.
There will be traditional banquettes and tables (the metalwork was custom made by Core Designs) supplemented with sofas near the projection TV. In addition to the spacious interior, they will have a protected outdoor seating area, which will be dog friendly. A full array of food trucks will be scheduled. There will be weekly trivia from Geeks Who Drink. With their preparation, skills, and hard work – I fully anticipate that Mile Wide Beer Company will hit the ground running.