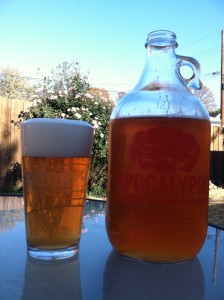 Thinking back to the line of folks winding through the crowd at the LIBA beer festival last year, all waiting for a chance at Watermelon Crack; I took home a growler from the last batch of 2012. I was able to enjoy it after yard work this past fall, a last taste of Indian summer.  I will tease you with this description, giving you something to look forward to in the spring/summer of 2013.
I am a true beer nerd and I even admire my growler. I like that Apocalypse has clear glass growlers, you can taste it with your eyes long before you pour it.
The color of the beer was a pale reddish color, really peach + pink grapefruit and lightly hazy.  A solid pour created a bright white and rocky head. The sticky lace dirtied my glass.
The smell of the Watermelon Crack was fruits and vegetables! Call me crazy but there were aromas of peaches, fresh snapped green beans, and watermelon rinds.  Actually the watermelon was a minor part of the aroma. Interesting.
The taste was of watermelon Jolly Ranchers and diluted lemonade. The modest ABV (4.5%) doesn't reflect the full flavor of this one. I found it to be refreshing and never overly sweet of fruity. Very well balanced with a nice, understated sweetness and a mild bitterness that makes this one easy to drink.  Tart enough to be refreshing but fruity enough to keep it interesting. A little dry in the finish with a body that was medium to light, the carbonation was low. I'd say it's a little glass of summer.  I believe the brewery recently had some available. This is one tasty way to get your fruits and vegetables.
Summary
Reviewer
LouisvilleBeer.com
Review Date
Reviewed Item
Apocalypse Brew Works Watermelon Crack
Author Rating