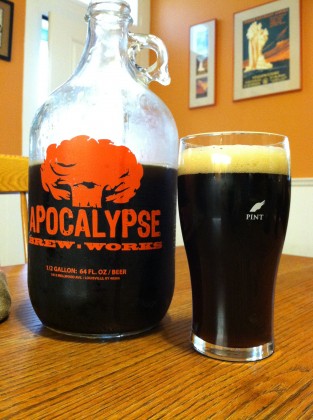 I have had other peanut beers, but they were stouts. I enjoyed those southern legume infused stouts but a peanut brown ale may be an even better combination. Peanut-Brown from Apocalypse Brew Works is a brown ale weighing in at 4.7 ABV and 22 IBUs. Brown ales are not a favorite style of mine but this is a very tasty offering.
I poured this from a growler right after I brought it home. The body was dark brown, nearly opaque and the tan head subsided quickly, leaving no lacing.
The smell of this beer was so inviting! Peanut butter cookies. Who doesn't love peanut butter cookies? I could smell this beer all day.
The body was medium to thin and the carbonation was modest. No distractions here.
The taste was mostly what you would expect after the aroma. Nutter-Butter cookies with hints of creamed corn. Not too sweet or cloying. The inherent nuttiness of a brown ale works so well with this peanut addition. There was a cola-like quality and a clean, flinty, metallic-like finish to this one.
Although this is not the first goober pea beer brewed in the city it may be the most accessible. This is a very drinkable, I would even say sessionable beer. The bold flavor doesn't become tiresome, and one could drink several of these with no problems.
(Saturday May 10th is the 2nd Year Anniversary Party at Apocalypse Brew Works. Hopefully this one will still be available, as well as several other special releases.)